Hip arthroscopy
What is it?
Hip arthroscopy is not widely performed and is a more involved procedure than many other forms of arthroscopy. With keyhole ports the joint will be visualized and it can be only diagnostic or can also be therapeutic.
Indications
Unknown hip pain
It is not possible to say a hip is normal without looking inside the joint.
Arthritis
(osteo- and rheumatoid) An arthritic joint can be cleaned using the arthroscope. It does not always relieve pain, but is much less invasive than a major joint replacement.
Loose bodies
Loose bodies are small fragments of bone that come adrift inside the joint.
Ligament and cartilage (labrum) tears
The hip contains a large ligament that can easily be torn and a structure called the 'labrum'. Though in the hip, a labrum looks like a knee cartilage and can be damaged during sport, or as a result of arthritis.
Synovitis
The lining membrane of the hip joint ('synovium') can become inflamed.
Infection
The hip can become infected, just like many other parts of the body. Causes might include Staphylococcus aureus, tuberculosis, and other organisms. Hip arthroscopy is an excellent way of establishing the true nature of the infecting organism so that appropriate antibiotic treatment can be commenced, as well as cleaning out the infection itself.
Tumours
Very rarely it is possible for tumours to grow inside a hip. They can be identified and often removed using the arthroscope.
The Procedure: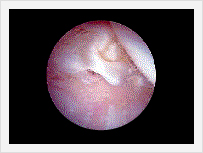 The hip from inside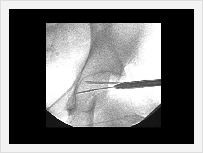 the access on x-ray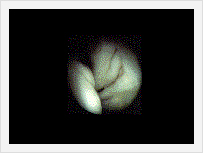 Pathology can be seen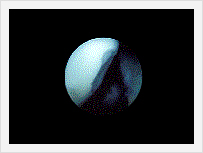 Cartilage damge seen easily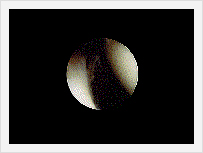 Tear